Matteo Mancuso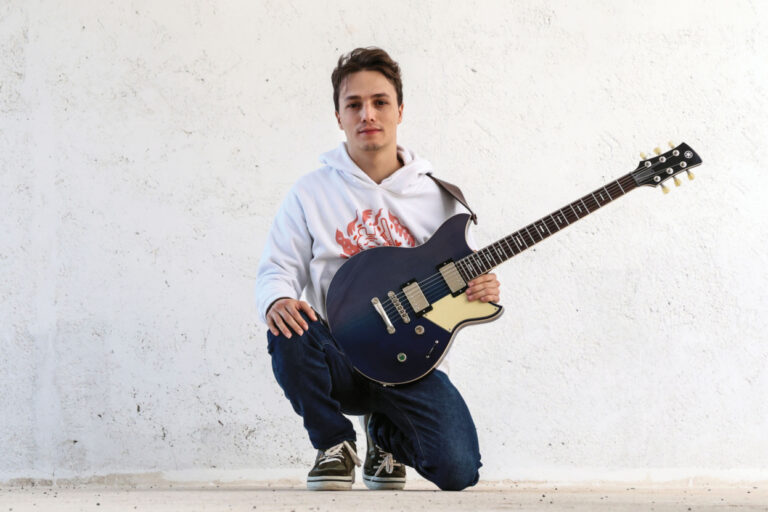 Meet the young Italian guitarist who's wowing virtuosos with his fluent blend of jazz and rock

When most artists release their debut album, they do so with little expectation weighed down upon them. By the time Sicily-born guitarist Matteo Mancuso had written and recorded his first album, //The Journey//, however, he had the likes of Steve Vai and Tosin Abasi doting on his talents.

"It puts a lot of pressure on you," he says with a mix of awe and fear, "but it's a dream come true. All I want to do with my life is play and make music, and that's what I'm doing now."

As the guitarist began uploading original compositions onto his YouTube channel in 2020, his eloquent blend of jazz delicacies and rock punch quickly began turning heads. Vai said that the evolution of the guitar was in safe hands with Mancuso, whilst Animals As Leaders' guitarist Abasi hailed him as a "a virtuoso beyond virtuosos."

Raised by his father, an accomplished jazz guitarist in his own right, Mancuso benefited greatly from his tutelage. "I was fortunate enough to be able to play with him from the start of my journey," he says. "He was a listening guide for me. He taught me about traditional jazz music. We'd play a lot of Django Reinhardt and Wes Montgomery together. It helped me understand where a lot of ideas I hear in other guitarists came from originally."

The more Mancuso explored the instrument, the more personalised his playing became.

"The guitar is an instrument where you can project a lot of your personality into it. You don't have to be the best player in the world; you just need to have your own approach to how you play. Those are the players that stand out."

Musically, Mancuso's personality is defined by not being definitive.

Says Mancuso: "I need my songs to have the power and the energy of rock mixed with the harmonic elements and the colours of jazz. With //The Journey//, my main goal was to create an album that wasn't associated with only one style.

"The album started as a jazz trio," he expands. "I've always preferred the jazz way of recording where we go into the studio and we just play guitar, bass and drums and see what happens. I wanted to capture the improvisational elements that we have when we play together. They [bassist Stefano India and drummer Giuseppe Bruno] were a big part in the composition of the album."

Across the record's nine tracks, you get a real glimpse into the soul of the musician and what excites him.

"Because of this versatility of the album, the reaction to it has been kind of mixed," he admits. "You have all the metalheads loving //Drop D// and jazz listeners really liking //Polifermo//, but it's an album where not everybody will love all the songs. I think that's kind of the beauty of it. The album is called //The Journey// because it's a mix of everything I learned over the years, on my journey and it was important the music reflected that."  PW

PROG FILE

LINE-UP: Matteo Mancuso (guitars), Stefano India (bass), Giuseppe Bruno (drums).

SOUNDS LIKE: Summer in the Italian countryside, where jazz melodies float through rolling fields

CURRENT RELEASE://The Journey// is out now via Mascot Label Group

WEBSITE: www.matteomancuso.net

— Phil Weller

From "Limelight - Matteo Mancuso" Prog Issue 143 Reprinted with permission.