Emma Tricca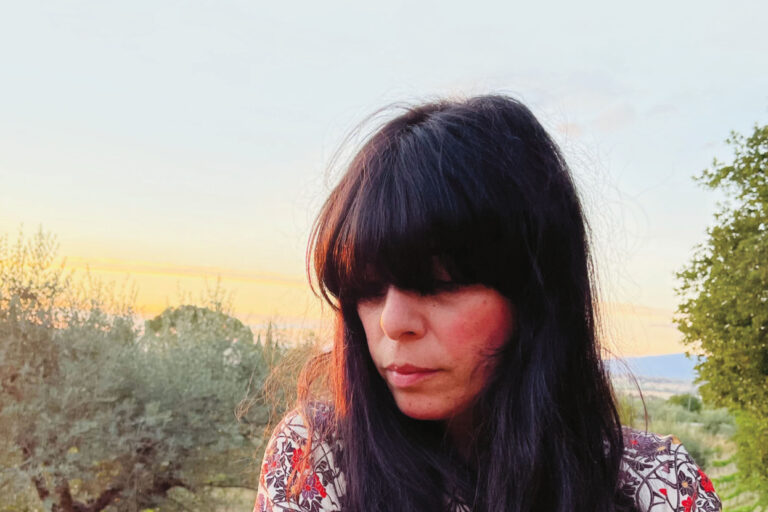 "I feel this is a miracle record," says Emma Tricca of her new album //Aspirin Sun//. London-based, Italian-born, and currently talking from her rented apartment in Manhattan's East Village, she's certainly created a thing of great beauty. Written as she grieved her father, its gentle psych melodies and fingerpicked guitars bring decades, even centuries, of her family's artistic history to life.

Never is this more evident than on //Christodora House//, which channels her great uncle. A rebel, he left the family winemaking business to study painting. After the death of his wife and child, he fled to New York to become an artist. On getting an art historian involved, Tricca discovered that one of his paintings from the 1930s, //Christodora House//, is in the Smithsonian Museum, but the building it depicts is steps from where she's sitting right now.

"They sent me the link to this painting I had never seen, and that did something to me," she says. "It is almost bringing tears to my eyes now, the powerful effect it had on me. Tompkins Square looks so bare, it almost looks like the back of our ancestral home. There's loads of solitude in that painting, but also there's hope in the sky because the clouds break, and the light comes jutting through. I wrote the song straight away at my friend's apartment in downtown New York."

A photographer friend who shot the artwork for her last album, St Peter, pointed out that he would have been standing at the exact angle in the park to paint as she was as she posed for the cover image – coincidence or kismet, it seemed like a sign.

This mix of art, history, drama and emotion – as well as the hope and solitude of the painting – runs through Tricca's work. Her mother was a literature teacher who filled the house with books for her to devour. Her dad was an architect, who instilled a love of Renaissance art and Roman architecture.

"One of the reasons why I am so obsessed with fingerpicking, I think, is because I remember sitting on my father's lap while he was working on the drawing desk. Back then, the drawing desks had rulers that moved on a string, and I remember this ruler going up and down, vertically and horizontally, and every time I play, I have that image in my head. I go on the bass notes with the thumb vertically and then horizontally on the melody."

Her bond with New York isn't just familial, although her musical career started in London. She was waitressing at Café Rouge when she was offered a slot playing at the Kings Cross avant-folk club night In The Pines, run by the much-missed late music journalist Pat Long. "It was like Cafe Wha? in the 60s, where you walk in and you just want to play," she remembers. Record deals followed, and eventually led her back to Manhattan where she met Sonic Youth's Steve Shelley, Dream Syndicate's Jason Victor and Pete Galub, who now play drums, guitar and bass, respectively, on her albums. These have become deeply collaborative affairs – Shelley and Victor produced both Aspirin Sun and St Peter.

"My self esteem is not great," she says. "There's continuous doubt. So knowing that these guys who have had incredible success in their career want to work with me, I wanted to honour their willingness to work with me. They're there for the song. You know when you read a novel, and every character has the same space in the novel, the same importance? That's how I feel about working with them. They're there to have a good finished piece, and there's no ego. It's magical, really, it was as if it was meant to be." 

Line-up: Emma Tricca (vocals, guitar), Steve Shelley (drums), Jason Victor (guitar), Pete Galub (bass)

Sounds like: Delicate, sparse psych-folk that unfurls with beautiful ambient Americana and dreamily emotional vocals

Current release: //Aspirin Sun// (Bella Union)

Website: emmatricca.com

— Emma Johnston

From "Limelight - Emma Tricca" Prog Issue 141 Reprinted with permission.