AVKRVST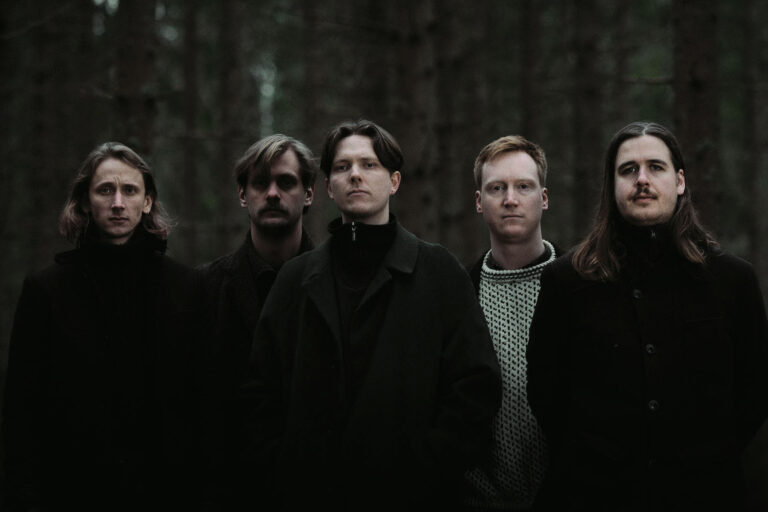 The nihilistic Norwegians with prog rock running in their blood
AVKRVST's name is pronounced "Aw-crust". Don't worry if you ever get that wrong though: the band have made the same mistake as well.

"We pronounced the first V at first," singer and multi-instrumentalist Simon Bergseth admits on a video call with //Prog//. "We used to say 'Av-crust', but the band is named after a guy called Kjell Aukrust – we just swapped the U's for the letter V. Other bands have been doing that for ages."

Kjell Aukrust was a Norwegian poet and artist. The reason this band named themselves after him is that he had the same hometown as they do, Alvdal. Bergseth and AVKRVST's other co-founder, drummer and synth player Martin Utby, grew up there together, then reunited in the same town to make what would become their debut album, //The Approbation//.

"Martin's dad is my dad's best friend," Bergseth says. "We grew up with them playing in their prog bands. Martin always had this loft with drums and guitar amps and everything. So, every time my dad and I went there, Martin and I played together. We thought, 'When we get older, we should start a band.'"

Bergseth and Utby were seven years old when they made that pact, but didn't form AVKRVST until 2021. "My better half was pregnant at the time," remembers Bergseth. "Martin and I went to my grandparents' cabin [in Alvdal], just to relax. Through the night, we figured out, 'Maybe now is the right time.'"

Every second of //The Approbation// was written and recorded in that cabin. Although the album is the sound of Bergseth and Utby following their fathers by playing prog, it's more indebted to the genre idols of their youth. The sorrow of Opeth and Porcupine Tree and the experimental indie prog of Mew are the most audible influences.

First song proper //The Pale Moon// dives from slabs of polyrhythmic rock into acoustic passages and delicate singing. //The Great White River// layers avant-garde guitar lines beneath melancholy hums of, 'I know death comes near me.' Then, //Anodyne// flaunts its complicated, classic prog organ playing.

"I think it's broad in terms of genre," Bergseth says of the album. "The chorus on //Arcane Clouds// is basically pop."

"The last song [//The Approbation//'s title track] is a big, final anthem," Utby adds. "There's a [progressive] throughline through the whole album, but I find it quite varied, in a way. We're not just going, 'This is very Opeth; this is very Porcupine Tree': the whole album is something else."

Going forward, AVKRVST's goal is to extend their palate even further. Bergseth says that they'll always retain that neo-prog spirit, though – not to mention the underlying sadness of their heroes' music.

"I've always hated major scales and happy music," he laughs. "Yellow Submarine is the worst song I've ever heard. I fucking hate it. I really like those feelings of gloom and isolation: I guess that's in keeping with the Norwegian forests we were surrounded by when we were growing up."

PROG FILE

LINE-UP: Simon Bergseth (guitars, bass, vocals), Martin Utby (drums, keys), Øystein Aadland (bass, keys), Edvard Seim (guitars), Auver Gaaren (keys)

SOUNDS LIKE: The best turn-of-the-millennium prog bands jamming in the same space, from Mew to Porcupine Tree

CURRENT RELEASE: //The Approbation// is out on June 16 via Inside Out

WEBSITE: www.avkrvst.com

— Matt Mills

From "Limelight - AVKRVST" Prog Issue 141 Reprinted with permission.