Us & Them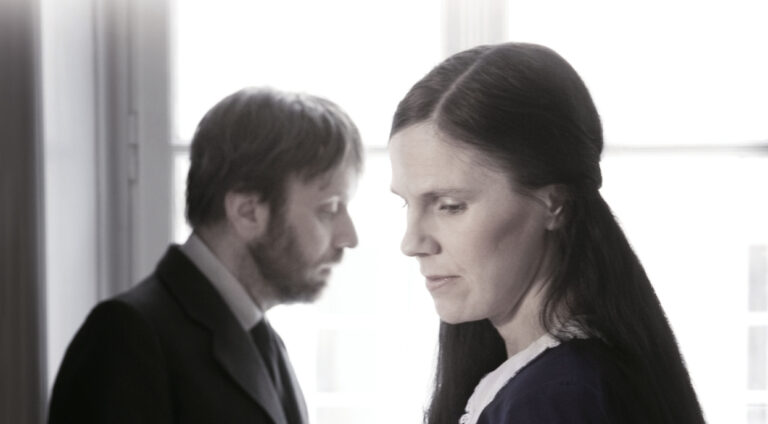 Swedish duo Us & Them do a wonderful line in folkish beauty undercut with a generous helping of foreboding. It's no surprise then to discover that they're big fans of //The Wicker Man//. The pair are all set to release a new compilation of their work via the gloriously fecund Surrey-based Fruits de Mer label, including two covers of songs from the 50-year-old British folk horror classic, starring Edward Woodward.
"We saw the movie and we were like, wow!" enthuses singer Britt Rönnholm, who makes //Willow's Song// her own. "The songs in that movie simply blew us away."
"The thing that is so scary about that movie is that you can go to a place and everyone seems to like you, and then you discover that they have a plan for you," adds musical partner Anders Håkansson, slightly chillingly.
Us & Them have been releasing music through Fruits de Mer since 2009, though the label decided now would be a good time to give their gorgeous proggy acid folk a little extra push with //An Introduction to Us And Them//, which – like //Introducing Sparks// – comes a good few years into a sumptuous career that hasn't always been as appreciated as it deserves to be. The 16-song compilation taken from four studio albums and a smattering of E.P.s, includes a number of self-composed tracks, plus covers of Sandy Denny and Pink Floyd.
Opening the album is //Julia Dream Of All The Pretty Little Horses//, a musical portmanteau of the 1968 Floyd b-side attributed to Roger Waters and the traditional US lullaby he might have half-inched before anyone knew what an interpolation was. I'm guessing Pink Floyd are a key influence then, given that song and the name of the group?
"The strange thing is, I wasn't really thinking of the song [//Us & Them// from //The Dark Side Of The Moon//] when I named us," says Håkansson. He and Rönnholm met in Stockholm in 2001 where they'd both relocated to from other parts of Sweden, and they decided to start a band together a few years later. Håkansson had made a living as a musician, while Rönnholm was a stage actress, a job that required singing now and again, though she'd not ever considered taking it up more seriously. "I will say, I've never played in a band [before]" says Rönnholm. "But Anders always did, and I was curious. So we tried our first song… was it //The Great Valerio// [Richard & Linda Thompson]?"
"No," replies Håkansson with a chuckle, "I think it was //Another Day// [Roy Harper], but we certainly tried a few."
Håkansson discovered English folk music while doing a language exchange in the UK when he was 16, and the pair have returned to Bude in Cornwall on a number of occasions. They've even paid tribute to the north-east Cornish town with a song called //Bude//, which deep-divers can find on their //…And I Observed The Blue Sky// album from last year.
Us & Them's other influences include Genesis, Kate Bush and Belle and Sebastian, and from closer to home, the legendary jazz pianist Jan Johansson, who Håkansson says possesses a "very Swedish melancholia that's a little bit different from the English." Furthermore, there's a recitation of //Annabel Lee// by Edgar Allan Poe on the compilation, sung over some ambient drone-based electronics, an impressive update of the American gothic. JA
Prog File
Lineup:

Britt Rönnholm: vocals, Anders Håkansson: guitars, synthesisers, drones, pianos

Sounds like:

Mediaeval folk that co-exists in the (Sandy) Denny-monde, with enough spooky electronica to twist things into dark fantasyland

Current release:

An Introduction to Us & Them (Fruits de mer)

Website:

 https://www.usandthem.se/

— Jeremy Allen

From "Limelight - Us & Them" Prog Issue 140 Reprinted with permission.