They Watch Us From The Moon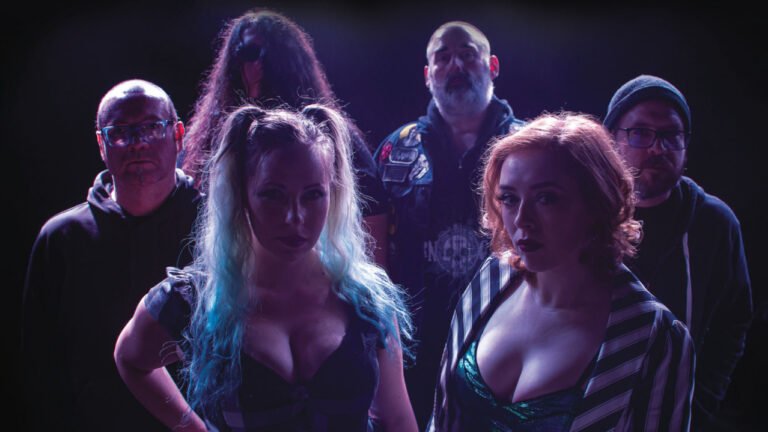 Spaced-out US collective reach new heights with debut album.

"The whole band is a concept. We play our live shows in character. It kinds of brings an air of theatrics to our stage show."

WHEN A BAND describes itself as "cosmic doom opera" and calls its members names like Nova 10101001, it's clear pressing play is going to be a bit of a trip.
They Watch Us From The Moon fairly live up the billing on their debut album //Cosmic Chronicles, Act 1: The Ascension//, a five-track concept odyssey lurching through spacey, Sabbath-esque riffs and a story fit for a sci-fi epic.

Slathered on top of the Kansas sextet's doom-mongering is an unusual twist of two soaring, melodic vocals – from the aforementioned Nova 10101001 and Luna Nemesis.
"There's nobody that sounds like us," guitarist The General Shane Thirteen proclaims. "There's nobody in doom or metal or a combination thereof that has accomplished the sound that we have.

"The vocal ability of the ladies is just phenomenal. What's going on with that took us from a pretty thick rock and roll band to an element of 'holy crap'."
The beginnings of the band were not quite so glamorous. The guitarist says it was "originally just a dad band" before line-ups changed and things got more serious.
Their first release was 2020's //Moon Doom!// EP, followed by the single //Return to Earth// a year later.

There is an undeniable penchant for long songs, and cyclical riff worship; no track here is shorter than six minutes, with two topping the ten-minute mark.
A running theme pervading the whole shebang is space, with the band offering its members an outlet for a long-rooted love of sci-fi.

The concept focuses on a rock and roll band invited to play at the pyramids in Egypt, and when their "sonic resonance" inadvertently activates ancient technology and sends a signal to space, the group ends up kidnapped and transported to the moon.

"The whole band is a concept," Shane explains. "We play our live shows in character. It kinds of brings an air of theatrics to our stage show."
Speaking through Zoom, and somewhat disappointingly not decked out in costume, he can remember being taken to the first //Star Wars// film in the late 1970s as a child.
At one point his "mouth dropped", according to his mother. "I didn't say a word for the entire movie, then talked about nothing for the next five years about Space Wars," Shane adds.

"Science fiction and alien lore and stories of ancient aliens is just a huge fascination for me and I think quite a few other folks in the band."
Bassist Rain Charger, the most recent addition to the band, pipes up: "I think it's definitely for fans of //Dune//, //Star Wars//, //The Amory Wars, Red Rising//."
Looking forward, the band are working on new material – shorter songs, incidentally – and are keen to keep touring.

But the important question remains – what is out there on the moon? "It's hard to say what's on the moon," Shane responds. "There's a whole lot of speculation and rumour and conspiracy theory about it. It's been fantastical enough that I want to believe it's true." CC

LINE-UP
Luna Nemesis (lead vocals), The General Shane Thirteen (guitar and vocals), Adryon Prahktaur (drums), Rain Charger (bass), R. Benjamin Black (lead guitar and vocals), Nova 10101001 (vocals)

SOUNDS LIKE
A trip to the moon soundtracked by forward-thinking doom metal.

CURRENT RELEASE:
//Cosmic Chronicles, Act 1: The Ascension// is out now

WEBSITE

— Chris Pope

From "Limelight - They Watch Us From The Moon" Prog Issue 142 Reprinted with permission.