Prog Britannia
Prog Britannia presented by Stacy Doller
---
---
Forthcoming Shows
There are no upcoming events to display at this time.
---
Podcasts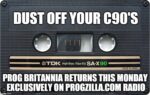 Socks at the ready…
Monday 22nd February sees the welcome return of Prog Britannia to the station, at a new start time of 20:30 GMT. Presented by Progzilla Radio co-founder Stacy Doller, the show has been off air since June 2015 (this was due to alledged ill health, although reports of the presenter being seen relaxing on the beaches of Fuertaventura are entirely accurate)
A decidedly 'off topic' chatroom and great music are just some of the elements that make Prog Britannia essential Monday night listening, along with all the important news from the UK Prog Rock Scene. Regular interactive feature 'Six Of The Best' makes a welcome return, along with new segments such as 'Magical Mystery Tour' where we dust off some Prog treasure (…or not, as the case might be…) and 'The Chairman's Choice' where we select some classic rock that our dearly departed friend Geoff Banks would have approved of (…or not…)
Join us live at 20:30 this coming Monday, right after an extended 'Sounds That Can Be Made' with Steve Blease …and bring your socks!