Live From Progzilla Towers
Live From Progzilla Towers presented by Cliff Pearson
---
Click here to hear Cliff introducing his show: [sc_embed_player_template1 fileurl="http://www.progzilla.com/media/promos/LFPT Promo 2017.mp3″]
---
---
If you are looking for Cliff's earliest Live From Progzilla Towers shows, from before the launch of the station, please check out the Live From Progzilla Towers Archive page.
---
Forthcoming Shows
---
Podcasts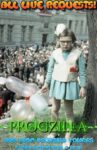 I'm delighted to announce that the podcast for edition 442 of Live From Progzilla Towers is now available.
In this all request edition we heard the following music:
Utopia – Singring And The Glass Guitar
Bernard Cribbins – Right Said Fred
Cats in Space – Thunder In The Night
Tom Slatter – The Beast And Mr Kock
Yes – Heart Of The Sunrise
Dead Can Dance – Yulunga [Spirit Dance]
Royal Hunt – Last Goodbye
Peter Gabriel – Excuse Me
French TV – Sekala An Niskala
Genesis – Home By The Sea/Second Home By The Sea
Split Enz – I Got You
Tangerine Dream – Bent Cold Sidewalk
John Coltrane – Equinox
Aragon – The Calm Before The Storm
Professor Tip Top – Beneath The Silence
Clouds – Watercolour Days
Jethro Tull – Living In The Past
Genesis – In The Cage (Medley)
Ryo Okumoto – Mirror Mirror
Shingetsu – Oni
The Beatles – A Day In The Life
iTunes/iPod users*: Just search for 'Progzilla' or subscribe
Enjoy!
Podcast: Play in new window | Download
Subscribe: RSS