Rogue's Gallery
[wc_row]
[wc_column size="one-half" position="first"]
Cliff 'Progzilla' Pearson
Live From Progzilla Towers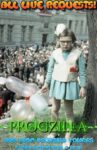 I'm delighted to announce that the podcast for edition 442 of Live From Progzilla Towers is now available.
In this all request edition we heard the following music:
Utopia – Singring And The Glass Guitar
Bernard Cribbins – Right Said Fred
Cats in Space – Thunder In The Night
Tom Slatter – The Beast And Mr Kock
Yes – Heart Of The Sunrise
Dead Can Dance – Yulunga [Spirit Dance]
Royal Hunt – Last Goodbye
Peter Gabriel – Excuse Me
French TV – Sekala An Niskala
Genesis – Home By The Sea/Second Home By The Sea
Split Enz – I Got You
Tangerine Dream – Bent Cold Sidewalk
John Coltrane – Equinox
Aragon – The Calm Before The Storm
Professor Tip Top – Beneath The Silence
Clouds – Watercolour Days
Jethro Tull – Living In The Past
Genesis – In The Cage (Medley)
Ryo Okumoto – Mirror Mirror
Shingetsu – Oni
The Beatles – A Day In The Life
iTunes/iPod users*: Just search for 'Progzilla' or subscribe
Enjoy!
Podcast: Play in new window | Download
Subscribe: RSS
[/wc_column]
[wc_column size="one-half" position="last"]
Stacy Doller
Friday Rock show
[/wc_column]
[/wc_row]
[wc_row]
[wc_column size="one-half" position="first"]
Emma Roebuck
Northern Star
Northern Star 4th Aug 2022
The Roots of the Matter!
363
Theme Pallas – Northern Star
Moody Blues – In the beginning /Lovely to see you
The Doors – When The Music's Over
Vanilla Fudge – She's not there
Spirit – Space Child
Miles Davis – The Time of the barracudas
Kingdom Come – Gypsy
Pink Floyd – Several Species Of Small Furry Animals Gathered Together In A Cave And Grooving With A Pict
P Lovecraft – Electrollentrando
Touch – The Spiritual Death of Howard Greer
The Move -The Ben Crawley Steel Company
The United States of America – The American Metaphysical Circus
The Beatles – Tomorrow never Knows
Jefferson Airplane – The Saga of Sydney Space pig
The Collectors – Howard Christmans older
Pretty Things – Death
John Mayall – Fly Tomorrow
The Who – The Punk & the Godfather
Jimi Hendrix – Voodo Chile (Slight return)
Procol Harum – A Christmas Camel
Sun ra – Cosmos Synthesis
The Nice – Azrael revisited
Deep Purple – River Deep mountain high
Repeat Shows Mondays 04:00 am GMT +1
Subscribe to the show here
http://www.progzilla.com/category/podcast/northern-star/feed/
Podcasts of all the shows are available here
http://www.progzilla.com/shows/northern-star/
If you have a request or any  ideas about shows or anything else for that matter?
Contact me on Emma@progzilla.com
#progrockradio #progzillaradio
Podcast: Play in new window | Download
Subscribe: RSS
[/wc_column]
[wc_column size="one-half" position="last"]
Sample Content
[/wc_column]
[/wc_row]