Podcast – The Prog Mill 10th Birthday Show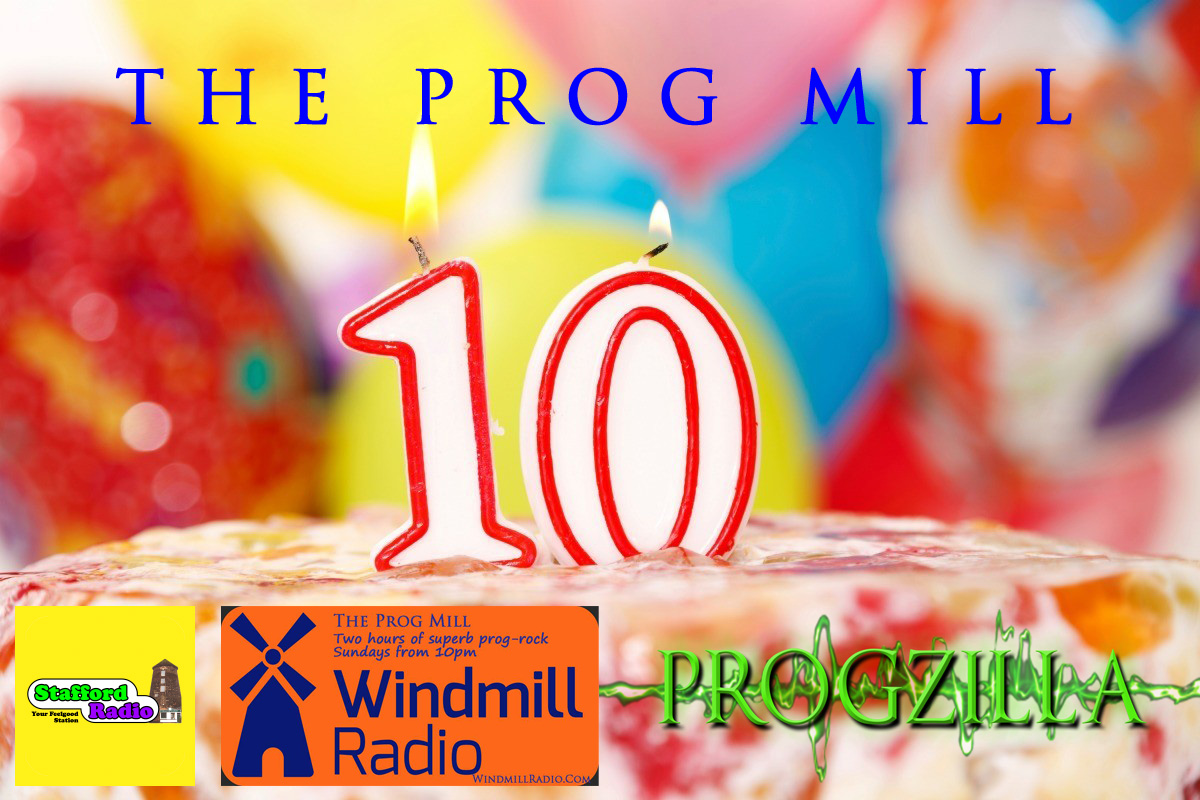 The PROG MILL'S 10TH BIRTHDAY SHOW – first broadcast 12 December 2021, is now also available to listen to anytime. This special edition celebrates ten years of The Prog Mill which started on Stafford (later Windmill) Radio in December 2011, moving to Progzilla Radio in 2016. It includes over 30 recorded greetings from listeners, artists and band members and friends of the show, and we play tracks from the previous 9 Prog Mill listeners album's of the year.
This Week's Playlist
1 It Bites – Meadow and the Stream (Map of the Past)
2 Freedom to Glide – Rain Part 1 (Rain)
3 IQ – Constellations (The Road of Bones)
4 Steven Wilson – Perfect Life (Hand. Cannot. Erase)
5 Big Big Train – London Plane (Folklore)
6 Kaprekar's Constant – Hallsands (Fate Outsmarts Desire)
7 Southern Empire – Innocence & Fortune (Civilisation)
8 Kaprekar's Constant – Ghost Planes (Depth of Field)
9 Abel Ganz – Sepia and White (The Life of the Honeybee…)
You can hear The Prog Mill on Progzilla Radio at these times every week (www.progzilla.com/listen – via the tune in and other internet radio apps and platforms – or ask your smart speaker to "Play Radio Progzilla on Tune-In")
Sundays 10pm – Midnight UK (2200UTC) – main broadcast
Repeated Wednesdays 5am – 7am UK (0500 UTC) – for The Americas/Far East/Australasia (Tuesdays 9pm Pacific US/Midnight Eastern US) and Saturdays 6pm – 8pm UK (1800 UTC/1900 Europe, 10am Pacific/1pm Eastern).
Plus: A podcast of the show which you can stream anytime or download as a mp3 file is normally online by Monday evening each week, with links here and at progzilla.com/podcasts
Your melodic and symphonic progressive rock music suggestions for the show are very welcome. Just email shaun@progzilla.com, or message via twitter @shaunontheair or facebook.com/theprogmill
Podcast: Play in new window | Download
Subscribe: RSS