Podcast 200: KrazzLoft Vinyl Show, June 5, 2022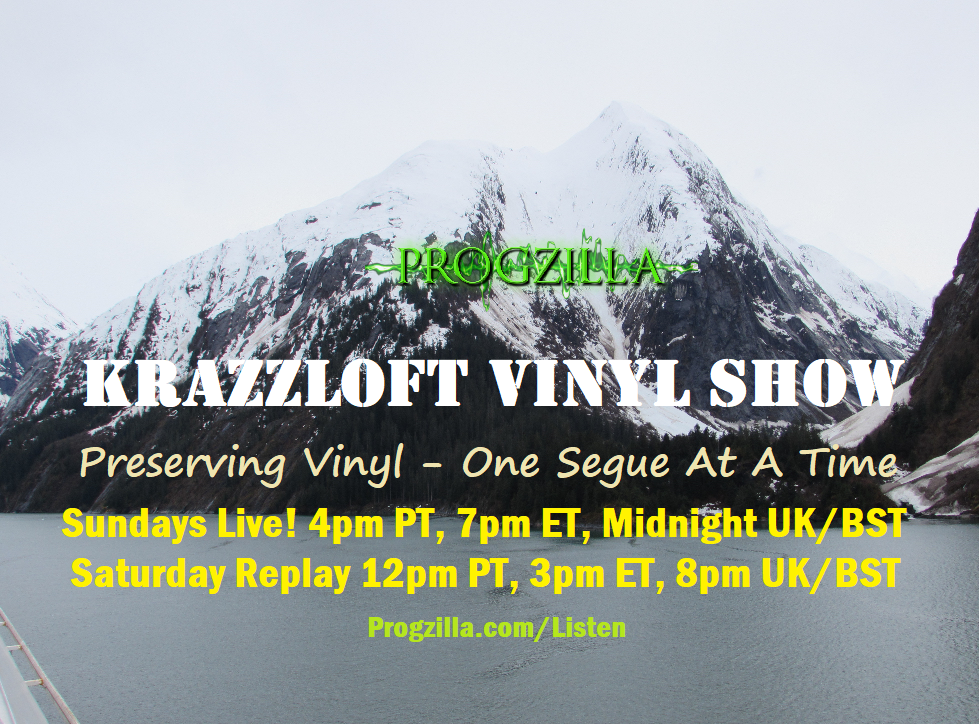 | | | |
| --- | --- | --- |
| | ARTIST | ALBUM |
| The Serpent Is Rising | Styx | The Serpent Is Rising (Sepent) |
| John Barleycorn | Traffic | John Barleycorn Must Die |
| Love Like A Man | Ten Years After | Cricklewood Green |
| Soul Sacrifice | Santana | 1st |
| Walk These Streets | Pearl Handled Revolver | If the Devil Casts His Net |
| Mr. Bojangles | Bob Dylan | Dylan (outtakes compilation) |
| Woman On a Train | The Fixx | Phantoms |
| Tokyo Joe | Bryan Ferry | In Your Mind |
| Come Dancing | The Kinks | State of Confusion |
| A Message To You Rudy | The Specials | 1st |
| 6-Pack Hack | | |
| The Boys of Summer | Don Henley | Building the Perfect Beast |
| Beach Baby | First Class | single |
| Catch A Wave | The Beach Boys | Surfer Girl |
| Summer Wind | Frank Sinatra | single |
| Summertime | Big Brother & the Holding Company | Cheap Thrills |
| Pipeline | The Chantays | single |
| Checkin' Out the 80's | | |
| Fallen Ange | Robbie Robertson | 1st solo |
| Roxanne | Sting | The Secret Policeman's Concert |
| No Love Lost | I.Q. | Nomzamo |
| New and Old | | |
| Hold | Octarine Sky | Close To Nearby |
| Tam Lin | Fairport Convention | Liege & Lief |
| Where Is This Dream of your Youth | Strawbs | Just A Collection of Antiques & Curios |
| SIAS: Hawkwind (1st) Side 1 | Hawkwind | 1st |
| Hurry On Sundown | Hawkwind | 1st |
| The Reason Is | Hawkwind | 1st |
| Be Yourself | Hawkwind | 1st |
| Paranoia Pt. 1 | Hawkwind | 1st |
| Progressively Speaking | | |
| Aspirations | Gentle Giant | The Power & the Glory |
| Siam See Saw | Greenslade | Spyglass Guest |
| Avalanche | John Holden | Circles In Time |
| Did You Go Downtown | Joy of Cooking | 1st |
| The Ugliest House On the Block | Beth Hart | Live at the Royal Albert Hall |
| Goin' Down Slow | Dave Mason | Certified Live |
| Jazz Journey | | |
| Elaboration | Arthur Blythe | Elaborations |
| Wade In the Water/Hang On Sloopy/The In Crowd | Ramsey Lewis | Live At the Savoy |
| All That Is | Steve Smith | Vital Information |
| Hammond B3's. It's Hammond Time! | | |
| Tell Me How Do You Feel/Don't Want No Woman | Lee Michaels | Lee Michaels (3rd) |
| Hold Your Head Up | Argent | All Together Now (3rd) |
| Green Eyed Lady | Sugarloaf | 1st |
| Chillin' Down | | |
| Getting' High | Gino Vannelli | Storm At Sunup |
| Nezumi | Eric Gale | Part of You |
| Haitian Divorce | Steely Dan | The Royal Scam |
| Happy Trails | Quicksilver Messenger Service | Happy Trails |
The KrazzLoft Vinyl Show show airs LIVE every Sunday at 4pm PT, 7pm ET, Midnight UK/BST, 1am CET.
Replays are the following Saturday at 12pm PT, 3pm ET, 8pm UK/BST, and 9pm CET.
Email The Krazz with questions, or music suggestions for future shows at Krazz@Progzilla.com.
Next week's show is the Psychedelic KrazzLoft. 
Podcast: Play in new window | Download
Subscribe: RSS