The Progmeister On Progzilla
Featuring Steve "The Progmeister" Petch 
On Progzilla every second Sunday of The month at 6:00 pm Uk Time.
---
     Subscribe to the podcasts here 
---
ForthComing shows
---
Podcasts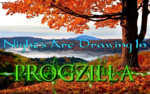 I'm delighted to announce that the podcast for edition 444 of Live From Progzilla Towers is now available.
In this edition we heard the following music:
Thin Lizzy – Dancing In The Moonlight
Gentle Giant – Free Hand
Kaminanda – Time Travellers
Also Eden – Star
Moulettes – Behemooth
Caravaggio – Before My Eyes
Caravaggio – Guernica
Simon Phillips – When The Cat's Away
Infringement – Disorder
GPS – New Jerusalem
Ryo Okumoto – Chrysalis
Stanley Clarke – Life Is Just A Game
Cyber Band – As I Sail
Macondø – Death: No Dominion
Sensations' Fix – Space Closure
IT – The Path Of Least Resistance
Shadowland – Dreams Of The Ferryman
Ianai – Manda Navaja
Pink Floyd – Things Left Unsaid
Toy Matinee – Queen Of Misery
iTunes/iPod users*: Just search for 'Progzilla' or subscribe
Enjoy!
Podcast: Play in new window | Download
Subscribe: RSS